May 31, 1999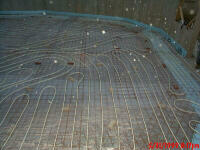 No, It's not spaghetti.
This is our future family room, underneath the concrete...where we have laid close to 1500 feet of Pex tubing for our radiant heat. The tubes are laid out in segments no longer than 330 feet, and no shorter than 250 - for a total of five "zones" of heat for our entire basement floor.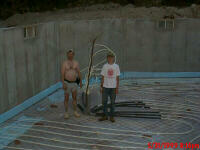 The ends of the segments are connected, into one continuous loop, so that they can be pressurized while the concrete is poured. It took some doing to get the loops to stay upright. Dan and Josh are standing on the edge of the utility room, showing off their handiwork.