June 1, 1999
We had expected delivery of our cement floor, but we waited in vain, enjoying the brief respite from several days of heat and work.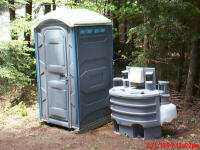 The biggest excitement of the day today was the delivery of our porto-let and washing facility.
The units are rented from Henniker Septic Service, who have been very helpful, informative, polite, and best of all, clean!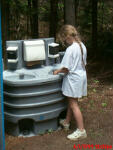 Krystin made sure to test out the facilities thoroughly...love that foot pump!