June 4th, 1999
8:45 am, a stranger strolls up our driveway, and informs us that his truck is stuck on a curve. A few short minutes later, we find that he's indeed "stuck" on the final hairpin turn on Melvin Mills Road, before the turn for Newmarket road. The situation is caused by insufficient grade on the turn, as well as way too much sand left on the road from the winter's sandings. After a LOT of encouraging help from Chappy, our excavator, and two new pushbrooms sweeping away the sand from under the truck, we finally managed to move the truck the rest of the way to the driveway.
We then spend another hour or so, simply getting the truck turned around correctly so that he could back straight up the driveway.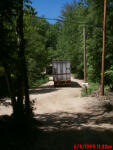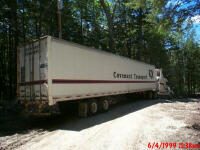 Oh the excitement! The truck is here with our dome pieces!
Our driver, "Robar"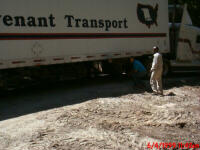 was probably never happier to be off to find a good restaurant!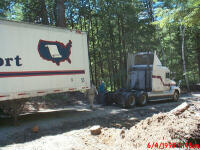 12:00 noon, Chappy, Doreen, and Krystin gets the first glimpse of the dome pieces filling the 53' trailer: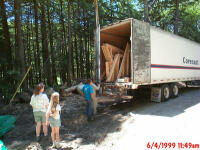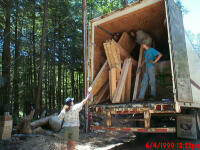 We are eternally grateful to Doreen and Dayle
for spending the entire day unloading the truck!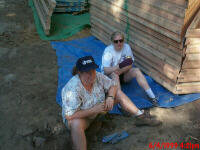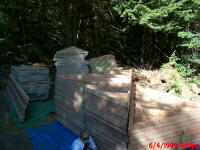 triangles, triangles, and more triangles!!!
the view from the inside of the truck: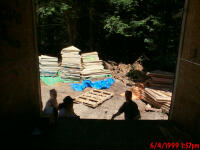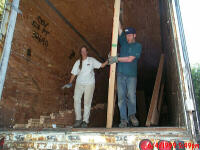 Dan and Mary encouraging a triangle to the door of the trailer (Dan M. is behind as well)
Dan M. and Doreen sharing the job of carrying one of the rim joists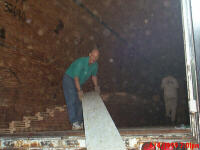 Bob was a one-man army...arriving late in the day, about 5:00pm, but definitely needed and appreciated!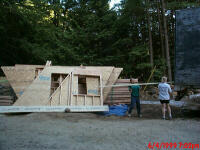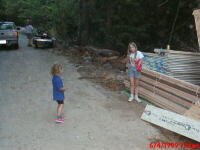 Krystin and Patience had a grand time running up and down the length of the trailer!
All the parts piled by shape and color...but OFF the truck!!!
Going, going.....gone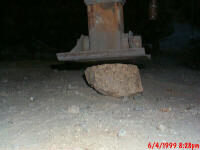 This foot, at the start of the day, was bearing weight upon this rock. At day's end, we discovered nearly an inch of air space between rock and foot!