June 16, 1999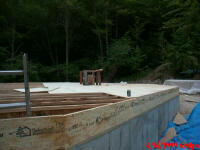 The platform is appearing!!!
We'll be much happier to see the PSNH truck appear...but nothing yet!
Terry: Your rooms are shaping up nicely! :-)
The picture on the left is looking through Dan's office wall into "Terry's room". The right is looking from within "Terry's room" through to the "den".