Hiking "to the top" on December 8th, 1998: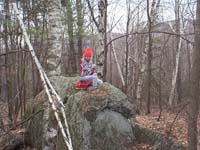 Krystin's picnic rock, near the summit. Josh helped with a lot of the clearing we did along the way, mostly with the stick he's holding while he rests near picnic rock.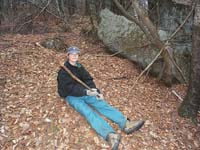 These are pictures taken at near peak:
Our first snow, permission to burn excess brush with a snowy Bonfire, December 8th, 1998
While setting up our Christmas tree on a rainy afternoon, we got a call from Chappy, reporting that there was enough snow cover on the ground to manage a bonfire and easilly rid ourselves of the remaining brushpile. From 5:30 until almost midnight, we fed the fire until both Dan and Mary were completely exhausted. When we were done only a very small pile of brush remained, and a stump we'd forgotten even existed, there at the bottom of the brush pile.